Useful information for your stay in the Residence of the Isles of Sola
Grandcamp Maisy Terrestrial And Marine Weather
The Marina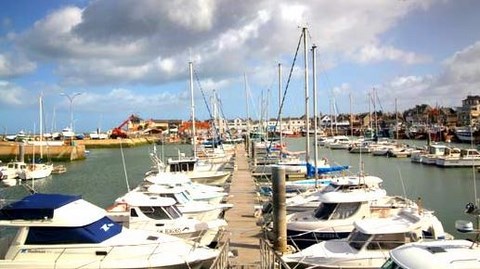 A pressing demand for places due to the growth of yachting, led to the extension and development of the port.

This extension, realized in 1975, allowed the realization of a fish auction, structures of marshalling and the creation of a marina.

At the beginning the boats were tied on a chain with floats. It was only later that cateways were installed in number of 4 with a capacity of about 270 places, 234 places per year.

Located at 12 Miles from Port en Bessin, 16 Miles from Courseulles and 35 Miles from Cherbourg (49 23 3 N and 01 02 9 w). This fishing port offers all the advantages for a stopover between the Channel East and the West Channel.
Sports Equipments
Boulodromes Children's playground GRANDCAMP-MAISY GRANDCAMP-MAISY
Near the stadium, road to Vierville Square d'Ornano
Free Free
Tennis courts
GRANDCAMP-MAISY – Tennis Club
1, rue du Château
contact : 02 31 22 62 39
Possibility of tennis courses for children in summer!
Price per hour: 5 € per court


Emergency Services And Transportation
Health
Doctor : Docteur ROYER
65 rue Aristide Briand 14450 GRANDCAMP-MAISY
Tél. : 02.31.22.60.44
Emergencies: do the 15
Pharmacy : Pharmacie NOROIT
72 rue Aristide Briand 14450 GRANDCAMP-MAISY
Tél : 02.31.22.60.50
Call number for the on-call pharmacy : 3237
Nurses : Mmes ANDRIEU, VENTECLEF, JOLY
73 rue Aristide Briand 14450 GRANDCAMP-MAISY
Tél : 02.31.22.89.07
Dentists : Docteur GUERBOIS, Docteur ZANNIS
Port Joncal 14450 GRANDCAMP-MAISY
Tél : 02.31.92.02.01
Transport Network
Taxibus and Green Bus from Calvados
BP 127 - Rue des Frères Lumière 14128 MONDEVILLE CEDEX
Tél : 08.10.21.42.14 www.busverts.fr
Monday to Saturday from 7am. At 20 o 'clock.
Green Bus line n ° 70: Bayeux / Grandcamp-Maisy: runs all the year from Monday to Saturday
Taxis Bus :
Reservation by tel. The day before the departure before 5.30 pm. Tickets available at the Grandcamp-Maisy Tourist Office and the bar / brasserie "Le Sporting" in Isigny-Sur-Mer.
Taxi :
Bar Brasserie A L'Eordage - booking at 02.31.22.64.38
Railway stations of Lison and Bayeux.
Information by calling 36 35 (0.34 € / min)
www.sncf.com/bayeux